ISC introduces flexible cables for use in cranes, furnaces, trollies and other heavy duty applications. These flexible EPR (Ethylene propylene rubber) cables have fine stranded tinned copper conductor of electrolytic grade. ISC manufactures these cables to BIS, BS and DIN standards. These cables are designed and manufactured in a controlled manufacturing process to get the best possible results.

All electrical cables are somewhat flexible, allowing them to be shipped to installation sites wound on reels or drums. Where applications require a cable to be moved repeatedly, such as for portable equipment, more flexible cables called "cords" or "flex" are used. Flexible cords contain fine stranded conductors, not solid core conductors, and have insulation and sheaths to withstand the forces of repeated flexing and abrasion. Heavy duty flexible power cords such as those feeding a mine face cutting machine/ Electrical Over Head Traveling Cranes are carefully engineered—their life is measured in weeks. Very flexible power cables are used in automated machinery, robotics, and machine tools. See power cord and extension cable for further description of flexible power cables. Other types of flexible cable include twisted pair, extensible, coaxial, shielded, and communication cable.

Ethylene propylene rubber (EPR) is an insulation used for high voltage cables. It has improved thermal characteristics over more traditional cables, such as crosslinked polyethylene, enabling a smaller cross sectional area for the same load carrying capacity. The cable is flexible and suited to applications where regular cable movement is required such as in the mining/ steel industry and for temporary installations.

With regard to the frequent failures of electrical cables ISC recommends that the cable specifications be changed keeping the current carrying capacity of existing cables. In the past and presently it is noticed that TRS cables are being used whereas TRS cables have long given way to EPR cables. TRS cables have natural rubber as their external and load bearing and insulating layers. Rubber over a period of time becomes hard and dry and in the process brittle thus cracks appear on the cables and the insulation covering breaks down. As the rubber insulation breaks down the load bearing capacity of the cable is directly transferred to current bearing cores thus causing breakage and shorting.

This can be over come by gradually changing the existing cables from TRS to EPR 1.1 KV Grade Flexible Cable, Annealed tinned copper conductor, EPR (ethylene propylene rubber) insulated, Cores laid-up together suitably PCP (poly chloroprene (neoprene)) Outer sheathed. Cable, Conforming to IS: 9968/Pt-1/88. Further more these EPR cables can with stand much higher temperatures and these cables are made to order and solid flexible load carrying members embedded in the cables and these load bearing members can be used for anchoring cables thus enabling the power carrying members to be free from any load and thus failing.
Some of the types of EPR cables are illustrated as below:-

EPR-N Cable:
It is characterized by good heat-resisting, corona-resisting, ozone-resisting, radiant-raysresisting, and it is often used in nuclear power plant, fossil-power plant, electric power system, and controlling circuit.

Multi core Flat cables:
Multi core Flat cables recommended for EOT crane festoons as they can take the bending without putting adding differential bending radius to inner and outer cores.

Compensating cables:
ISC also manufactures compensating cables for temperature measurements. These are sheathed cables having the property of with standing high temperatures. ISC manufactures compensating cable in multi cores also and with varying insulating materials as per the demands of the customers.

Festoon cables:
The screened and unscreened rubber flat festoon cables are designed to be used in handling systems, lifts and e-chain cable carrier systems in power, control and bus applications with high mechanical stress and frequent bending in one plane only.

The copper-screened versions of the cable are used in environments where protection is needed against electro-magnetic disturbances caused by power cables.

The 300/500 V rated cables are constructed from plain copper conductors, EPR rubber compound insulation and PCP rubber compound outer sheath. The screened version includes a tinned copper braid screen with \>80% coverage.

ISC also manufactures TRS (tough rubber sheath) cables in single and multi core formats having stranded tinned copper electrolytic conductor.

Rubber Insulated Flexible Cable:
It is flexible, and mainly used in power circuit of portable electrical machinery and apparatus, under 600 volts, and the cable insulated and sheathed with rubber.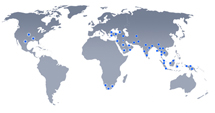 Explore the world of ISC America , find out what we are doing and where...

| | | |
| --- | --- | --- |
| | | India |
| | | |
| | | Bangladesh |
| | | |
| | | Thailand |
| | | |
| | | Singapore |
| | | |
| | | Malaysia |
| | | |
| | | Indonesia |
| | | |
| | | Myanmar |
| | | |
| | | Turkey |
| | | |
| | | Oman |
| | | |
| | | Iran |
| | | |
| | | Saudi Arabia |
| | | |
| | | South Africa |
| | | |
| | | Pakistan |
| | | |
| | | US Ohio |